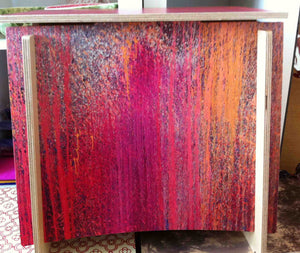 Zaishu Seat/Stool/Table by Ash Keating
We are so happy to introduce our new Zaishu range! 
This limited edition Zaishu has been painted by Ash Keating, a visual based Australian artist who has recently won the $20,000 Guirguis art prize from the Ballarat Art Gallery, making his Zaishu seat/table, hot property for collectors looking for affordable art.
We only have two available so grab an affordable piece of art from an up and coming artist now!
Shiva Designs is very excited and proud to be introducing the amazing ZAISHU handcrafted stools/seats to Singapore. 
Exclusive to Shiva Designs. Zaishu is artwork that fuctions as seat/table or box,combining award winning design with ethical production methods.
Since starting life as an art installation at the Australian Centre for Contemporary Art in 2004 they have collaborated with hundreds of artists and communities around the world to make ethical products that are also art. 
The following artists, and many more, have collaborated with them so far:  Tin and Ed, Beci Orphin, Oslo Davis, David Bromley, David Band, Angus McDonald, Rachel Bending (Bird), Nicola Cerini, Julie Paterson (Cloth), Stewart Russell (Spacecraft), Dolly Rogers (Amsterdam), Val Krishn (India) and Kat Macleod.