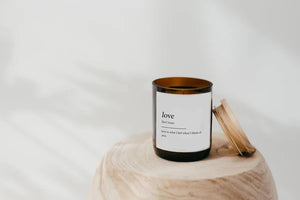 Quote Candles by The Commonfolk Collective
Our Heartfelt quote candles are straight from the heart and our Pantone colour pallet looks cute styled back with our Photography candles. So many quotes to choose from, making it the perfect gift for others or some inspo for yourself.
Australian made, free from any nasties and vegan-friendly.
These Midi Amber Jar Quote Candles have 230g of creamy pure soy wax that will give you up to 40 hours of burning.
Scents
Mali / Coconut + Lime (Bestie, Tribe and Travel)
Blends coconut and lime sublime, take me for cocktails on the beach, with a summer breeze and palm trees. 
Top notes: Cucumber, mint leaf
Middle notes: Ginger root, Jasmine
Base notes: Cyclamen, Sea salt
Byron / Almond Milk + Coconut Milk (Love and Family)
Bringing you warm natural vibes to your tribe, with a creamy blend of almond milk and coconut milk. This offers a subtle scent of vanilla with sweet almond, warming caramel and a mild twist of coconut.
Top notes: Aniseed, Peach Nectar, Coconut Milk, Pineapple
Middle notes: Buttermilk, Sweet Almond, Jasmine, Coconut Palm, White Ginger
Base notes: Cyclamen, Sea salt, vanilla bean, rosewood
Hudson Valley / Cucumber + Ginger + Mint + Lemongrass + Persian Lime (Soul Sister and Teacher)
A delicious aroma that embraces scents of fresh produce from the valley. A fresh blend of cucumber, mint & ginger with a twist of lemongrass and Persian lime.
Top notes: Cucumber, Mint Leaf, Lime zest, Lemon peel
Middle notes: Ginger root, Jasmine, Lemongrass
Base notes: Cyclamen, Sea salt, vanilla Bean, Rosewood
Tulum / Mango + Thai Lime (Friend, Happy days-bra off)
Take me to the tropics of Tulum to wander and wonder with this dreamy mango and lime sublime. 
Top notes: Lemongrass, Lemon Peel, and Kaffir Lime
Middle notes: Fresh Pineapple, melon
Base notes: Grapefruit and Juicy Mango
India / Teakwood + Tobacco (Wanderlust and Happy days-good times roll)
Take a walk through the woods and alight the fiery ambers of teakwood together with the warmth of earthy tobacco 
Top notes: Cilantro, Black pepper
Middle notes : Cinnamon bark, Clove ginger, Jasmine
Base notes: Tobacco smoke, Amber cedarwood, Tonka beans, Vanilla
Palm Desert / Sandalwood + Patchouli (Aunty)
Bohemian vibes of sandalwood and patchouli to fill you with peace, harmony and grow your spiritual awareness
Top notes: Lemon oil, Eucalyptus
Middle notes: Clove bud oil and Caramel
Base notes: Sandalwood, Patchouli, Cedarwood
Himalayas / Sage + Cedarwood (Sister)
Calm the body, soul and mind with sage and cedarwood. Cleanse. Clear. Create.
Top notes: Lemon oil
Middle notes: Green sage, White Lily
Base notes: Cedarwood musk, Patchouli Amber
Big Sur / Fresh pine + Fur needle (Christmas)
(Seasonal only) 
A crisp pine needle scent that's like a walk through an evergreen forest.
Top notes: fir needle, spearmint
Middle notes: Sage leaf, Rosewood
Base notes: Cedarwood, Amber