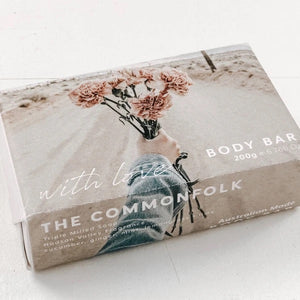 Body Soap Bars by The Commonfolk Collective
AUSTRALIAN MADE HAND + BODY BARS
Palm Oil Free. Vegan. Natural.
S C E N T S:
H U D S O N  V A L L E Y - A delicious aroma that embraces scents of fresh produce from the valley. A fresh blend of cucumber, mint & ginger with a twist of lemongrass and Persian lime.
B Y R O N  B A Y - Bringing you warm natural vibes to your tribe, with a creamy blend of almond milk and coconut milk. This offers a subtle scent of vanilla with sweet almond, warming caramel and a mild twist of coconut.