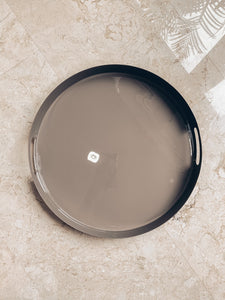 Metal Serving Trays by Blank Slate Home
Trays, which show her intuitive sense of colour in beautiful and calming shapes and sizes. Choose from our selection of colourful sets that can be stacked together to create functional and decorative configurations, or get them separately. Made in India. 
Colourful steel trays perfect for jewellery, keys, sunglasses, barware, technology, or nothing at all. These are not food safe. 
Care Instructions - 
Wipe clean with a soft and semi-damp cloth. DO NOT wash under the running tap. DO NOT use hard brush or detergent while cleaning. Keep in a cool dry place. Keep away from sunlight and direct heat. Handle with care. Not Microwave or Dishwasher safe. 
Product Specifications - 
Material: Metal
Length: 16", 14", 12"
*If you would like to purchase this as a set, please type at Checkout under "Special instructions for seller" which colour you would like! Thanks.