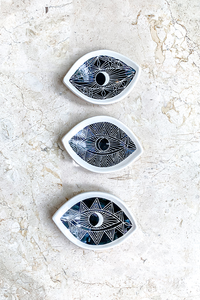 Spirit Eye Dishes by Deme
Demetria Chappo's Spirit Eyes are one-of-a-kind graphic motifs with spirited iconography of eyes, moons, stars, the cosmos, and sacred geometry. Each piece is made by hand in her studio in Brooklyn. Encompassing decorative art objects and functional homewares, Chappo's Spirit Eyes are unique and eye-catching and feature intricate lines, patterns, and motifs with symbols of good energy and positivity.

Elements in her work are inspired by the places she's lived and calls home as well as the cosmos. 

These gorgeous Spirit eye dishes measure 0.5" x 4-5" x 3-4".